FCBC Battery Charger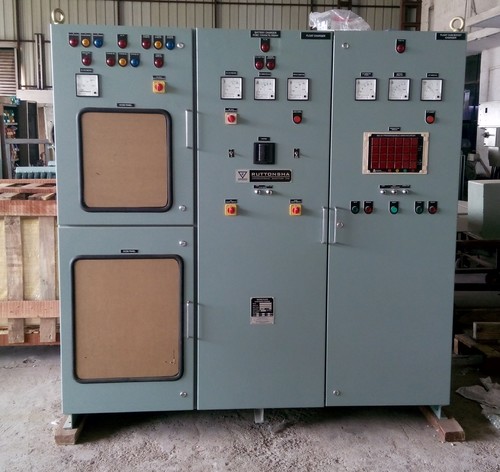 FCBC Battery Charger
Price And Quantity
Product Specifications
Thyristor Based FC & BC

Electric Charger
220V AC 1Ph. .+/- 20% & 415V AC 2Ph./3Ph.+/- 10%

Float Vol. 121V DC , Boost Vol. 125V DC Volt (V)
50 Hertz (HZ)

Float Vol. 121V DC , Boost Vol. 125V DC
Product Description
FCBC Battery Charger

Technical specifications of 110v float cum boost charger:

Type: Thyristor Based FC & BC
Rated Input Voltage: 415 VAC 10%
Input Voltage Tolerance: -15% and + 10%
Rated Input Frequency: 50 Hz.
Input Frequency Tolerance: 5%
Output Voltage: Float Vol. 121V DC , Boost Vol. 125V DC
Output Current: 0-40 Amps. or as required/specified.
Primary: Normal Step-down
Secondary Rectification: Thyristor Controlled
Ripple: 1%
Surge Suppression time: 5pico seconds
Spike suppression energy: 20 Joule
DC Reverse Polarity protection: Electronically/by relay/Contactor
Short Circuit protection: Electronically/By MCB
Charging Mode: Manual/Auto Selection of Float to Boost & Vice Versa depending on Current
Recharge time: As per battery rating/Condition
Protections: Over Charge and low battery Electronically controlled.
Indications: Mains On, Charger On / Fail, Float / Boost Reverse Battery & DC High Voltage Trip.
Metering: Volt Meter and Ampere meter
Battery Type: Lead Acid
Ventilation: Air cooled
Mounting: Surface
Specially designed for unmanned sights.

Note: Specifications are subject to change as per the requirement or the Changes in Technology

Potential free contacts for annunciations also if required.